We specialize in motorized blinds
No more struggling to adjust window shades in hard-to-reach locations, or worrying about messy dangling cords. Relax and let our motors do the work for you.
Motorized blinds are perfect for two storey windows or areas of many windows. You can have up to 10 blinds operating on one remote control. This allows for "one touch" operation of all your blinds.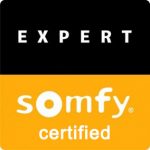 Motorization eliminates cords and wands and reduces weight challenges of heavy larger blinds.
The motors are quiet and hidden.
Blinds can be programmed to raise and lower at certain desired times.
INDOOR WIREFREE™ RTS SUN SENSOR
Allows for automatic operation of motorized interior window coverings according to the amount of sunlight in a room.
MYLINK™
Control your window coverings, rolling shutters with a smartphone or tablet
The Somfy myLink™ is a simple device that turns your smartphone or tablet into a sophisticated remote control for motorized products featuring Radio Technology Somfy®.

WIREFREE™ SOLAR PACK
An energy-efficient alternative to powering motorized window coverings
The new WireFree™ Solar Pack harnesses renewable solar energy to power WireFree™ motorized window coverings and offers a green alternative by reducing the replacement and disposal of standard batteries.
TELIS RTS Remote controls
Revolutionizing home comfort control
The Telis RTS is a convenient hand-held remote for use with any motorized product featuring Radio Technology Somfy®. It's available in a variety of colors and channels.
Hunter Douglas motorized operating systems for window shades and blinds are designed with the most innovative, award-winning technology in the industry. Motorization allows you to easily and effortlessly operate your window treatments and is ideal for increased child and pet safety.
With battery-operated and plug-in power options, PowerView is the perfect solution for both newly constructed and existing homes. No additional wiring is required. Batteries typically will provide power to a Hunter Douglas window covering for one year, depending on usage. To raise or lower individual window treatments or open, close and rotate vanes, simply send a command from one of our PowerView Pebble® Controls. Or create Scenes using the PowerView App to set rooms or your whole home in motion. Scenes can be set to scheduled events, providing a level of convenience that is the crowning touch for your Hunter Douglas window treatments.
Hunter Douglas wireless operating system gives you the power to control and schedule your window treatments from your smartphone, tablet, or a remote control.